Our Meadow Inspiration

I've known Hannah Nunn for a long time, having met her at shows we were both exhibiting at. She makes beautiful paper cut lighting, wallpaper and other wildflower treasures, which I've always admired. So when she asked me earlier this year if she could use some of my meadow inspired wire flower arrangements in her wallpaper photos, the answer of course was an enthusiastic yes! Her work features many of the same wild plants I love like cow parsley, daisies and grasses, so what more natural collaboration? We are also running a double giveaway so read on for more.
I love the fact that we are both inspired by the meadows but our love and interest expresses itself in a totally different way. So Hannah and I have exchanged some questions all about our work and our love of meadows. You can read my answers on her blog here. Here is what she said...
Tell us something about you and your work
I'm Hannah Nunn and I make paper cut lighting, wallpaper, window films and a large collection of laser cut 'treasures' and meadow flowers. I started making my nature inspired lighting nearly twenty years ago and since then my collection of products has grown and grown. I like to write about my connection to nature too and I print a yearly nature journal which is based on my weekly newsletter called the Three Somethings - something I have made, something I am making and something I have noticed. It's a great way to keep up with my work.
What is it that you love about meadows? How do they make you feel?
There is just so much delicate beauty in the meadow. Just one tiny flower or grass on its own is enough to have me awestruck, but there is such an explosion of incredible shapes, textures, colours that it fills me with such inspiration and I just want to look and look. There is so much life in there and I love to sit at the meadows edge peering into the tangle of plants and watching it all go on marveling at every tiny detail. Yesterday I was in a huge sunny buttercup meadow in the Dales with the wind making gentle waves of shimmering yellow. The bees were buzzing, the swallows were screeching and diving and the sun was reflecting off all of those luminous petals. It was so uplifting.
Can you remember the 'aha' moment when you realised you could express your love of meadows in your work? How did you begin?
I'd been working with the silhouettes of individual plants and flowers in my paper cut lamp designs for many years but when I started making wallpaper it was the first time I had worked in print and it opened up so many possibilities for designs. I remember standing at the edge of the meadow one day and holding up one particular meadow grass up the sky. Its tiny hairlike stems would have been way too delicate to cut out of paper but I could definitely use it in print. This was the first motif in my Paper Meadow wallpaper design, which has now become one of my best sellers. This motif is the one that you see on my HN logo and it has found its way into other wallpaper designs too.
What plants or grasses can we find in your wallpaper?
I do like to feature real flowers and grasses in my designs. My Paper Meadow wallpaper features cow parsleys, dandelion clocks, lots of meadow grasses, sorrel and rush. My Daisy Meadow wallpaper has ox eye daisies, lesser sticthwort, harebells, pignuts, shepherds purse and my absolute favourite quaking grass. I love looking at all these flowers and trying to express their individual beauty in a simple silhouette.
Do you have a favourite local (or far away) meadow that you like to visit?
I am really lucky to live Hebden Bridge, West Yorkshire which has so many woodlands, rivers, moors and fields within walking distance. We have lots of wildflower meadows in the hills that surround the town so I spend a lot of time enjoying those in summer but there are other meadows around the country that are also close to my heart. My most favourite is near my partner's old house in Worcestershire. It's called Eades Meadow and it is ancient and protected and has lots of rare flowers. It has an astonishing number of species living there and it is SO beautiful. Last year my fiance proposed to me there with a ring made of quaking grass…so it's always going to be very special to us!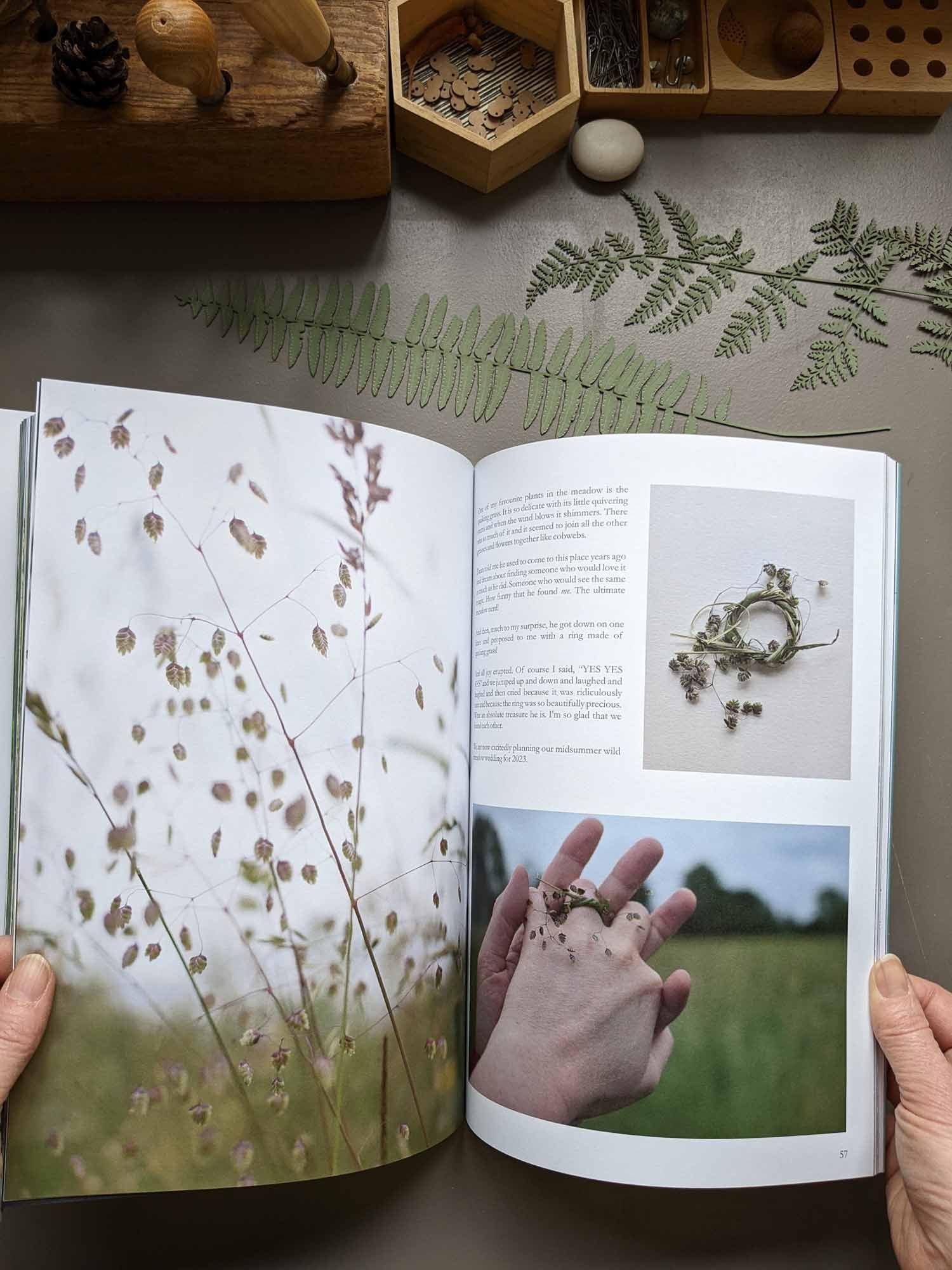 Where can we find your work?
You can find all my work on my own website www.hannahnunn.co.uk and in lots of lovely craft galleries and shops up and down the country. Check my stockist list to see if there is anywhere near you. and you can join my Three Somethings mailing list here.
We are both running Instagram giveways!
I'm giving away some of my detailed ox eye daisies and the four grass stems pictured here. To enter go to my Instagram account for the full details.
Hannah is giving away firstly, two rolls of her wallpaper from her £75 per roll collection, and secondly- a copy of her new 'Something I have noticed journal' featured in some of the images above. To enter go to Hannah's instagram account.
The giveaway closes on Thursday 30th June 2022.